Overview

The common bunion is a localized area of enlargement of the inner portion of the joint at the base of the big toe. The enlargement actually represents a misalignment of the big toe joint (metatarsal phalangeal joint) and, in some cases, additional bone formation. The misalignment causes the big toe to point outward (medically termed hallux valgus deformity) toward the smaller toes. This deformity is progressive and will increase with time. The enlarged joint at the base of the big toe (the first metatarsophalangeal joint, or MTP joint) can become inflamed with redness, tenderness, and pain. A small fluid-filled sac (bursa) adjacent to the joint can also become inflamed (bursitis), leading to additional swelling, redness, and pain. A more deep joint pain may occur as localized arthritis develops in later stages of the deformity. A less common bunion is located at the joint at the base of the smallest (fifth) toe. This bunion is sometimes referred to as a tailor's bunion or bunionette.

Causes
Some people develop bunions from wearing shoes that do not fit correctly (especially high heels or narrow-toed shoes). For other people, bunions are caused by factors beyond their control. These can include a family history of a foot type that is susceptible to bunions, neuromuscular disorders, conditions affecting the joints (e.g., arthritis), severe injury to the foot, deformities at birth, problems that affect the way a person walks (e.g., rolling in at the ankles).

Symptoms
Many people do not experience symptoms in the early stages of bunion formation. Symptoms are often most noticeable when the bunion gets worse and with certain types of footwear. These include shoes that crowd the toes and/or high-heeled shoes. When symptoms do occur, they may include physical discomfort or pain. A burning feeling. Redness and swelling. Possible numbness. Difficulty walking.

Diagnosis
A doctor can very often diagnose a bunion by looking at it. A foot x-ray can show an abnormal angle between the big toe and the foot. In some cases, arthritis may also be seen.

Non Surgical Treatment
Treatment options are based on the severity of the deformity and symptoms. Nonsurgical treatments usually are enough to relieve the pain and pressure on the big toe. Your doctor may tell you to start wearing roomy, comfortable shoes and use toe padding or a special corrective device that slips into your shoes to push the big toe back into its proper position. To help relieve pain, you can take over-the-counter medications such as acetaminophen (Tylenol) or ibuprofen (Advil, Motrin and others). Whirlpool baths also may help to ease discomfort.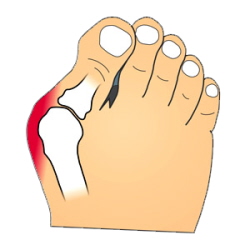 Surgical Treatment
Pain is the commonest indication for bunion surgery. You may also notice redness and inflammation and usually this means that the bunion has progressed to a point that it will not respond to simple modification in shoe wear. Eventually that major joint of the big toe will become stiff and this makes it difficult for activities such as climbing stairs and sports.

Prevention
The best protection against developing bunions is to protect and care for your feet every day. Avoid tight and narrow-fitting shoes. Limit your use of high heels. Wear comfortable shoes with adequate space between your longest toe and the end of the shoe. Getting treatment for very flat or very high-arched feet (if you are experiencing symptoms) will give your feet the proper support and help maintain stability and balance.